The Bay Journal published this interesting paper that imagines a not-so-bleak future for Hemlock's, despite the onslaught of the invasive Hemlock Woolly Adelgid (HWA). HWA has been reported in a number of locations across southwest Nova Scotia and it is only a matter of time before it is found north and eastward. Is there any solution?
This article thinks so. A hybrid hemlock has been breeded and found to be resistant to HWA. It will be interesting to see if it can be used at a larger scale, and there are thoughts around whether a hybrid hemlock could ever act or replace our true eastern hemlocks. Another possible solution is to introduce HWA-attacking beetles!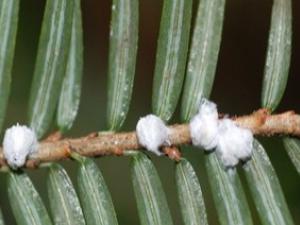 The Hemlock Woolly Adelgid Working Group for the maritimes has a lot of great resources on their website. You can learn more about HWA, how to identify and sample the pest and what you can do to slow the spread.
Here is a video the Blomidon Naturalists Society created on Hemlock Woolly Adelgid: